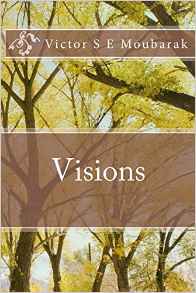 VISIONS
(ISBN 9781536 976076)
By VICTOR S. E. MOUBARAK
A challenging Christian book you must not miss. A 'must buy' reality check. A vibrant tale of supernatural events. Strong believable characters. Fast-paced exciting storyline.
"What a wonderful story! Don't miss this book."
Three children see an Apparition of Jesus. They tell their priest. News soon spreads throughout town.
People scoff in disbelief. They mock the children and their parents. Some even resort to vicious attacks and abuse.
The priest has a crisis of Faith. The church has the story hushed up.
But Jesus appears to the children again, and again.
WHAT WOULD YOU DO?
As a parent, as a Christian, or as a mere bystander ...
The author skilfully combines humour with suspense to deliver a Christian message relevant to today's society.
This book will keep you guessing what happens next. BUY IT NOW.
VISIONS is available from AMAZON and all good booksellers.